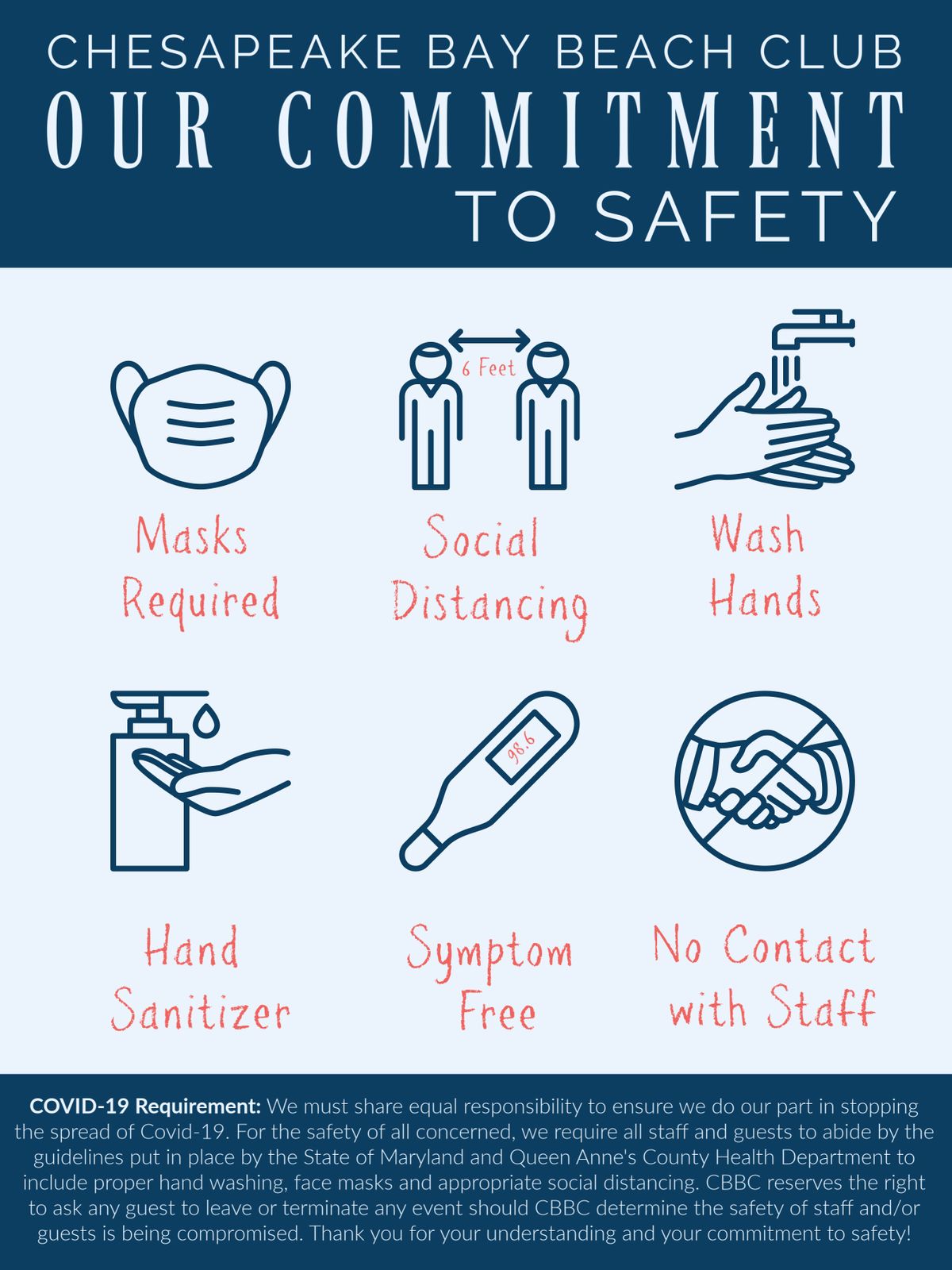 A very warm welcome to The Inn at the Chesapeake Bay Beach Club. Now more than ever, we are dedicated to taking care of our guests ensuring their comfort and safety. Our commitment and focus remains as it has over the past twenty years – genuine hospitality and extraordinary service. We are honored to have the opportunity to welcome guests back and grateful that you entrust us during your travels. Our dedicated team has been working to redefine our procedures to ensure we are providing the safest environment for our guests and associates. We are here to serve you and provide you with the very best experience during your stay!
Below, we have detailed our enhanced cleaning and safety protocols throughout the hotel.
*Please note: We continue to work with our local health department on our policies and procedures to ensure the safety of our guests and staff. Policies are subject to change at anytime per the recommendations of local health officials. Please contact the front desk with any questions 410.604.5900.
ASSOCIATES
Associates are required to wear masks. Employee symptom monitoring check before every shift.
HOTEL GUESTS
Guests are required to utilize masks in public spaces within the hotel in adherence to MD state law.
PUBLIC SPACES
Increased frequency of cleaning in all public spaces with CDC recommended cleaning products.
HAND SANITIZING STATIONS
Hand sanitizing stations are placed throughout the hotel to include entrances and front desk.
SOCIAL DISTANCING
Guests will be reminded to maintain social distancing from associates and other guests.
FRONT DESK & THE MARKET
Glass partitions have been installed at the Front Desk and Market checkout as an extra precaution.
GUEST ROOMS & HOUSEKEEPING
Heightened cleaning protocols to ensure all surfaces are disinfected throughout guest rooms and suites. In between each guest, we are using a highly effective and efficient disinfectant fogger used to diffuse anti-microbial and disinfectant solutions to ensure each guest room is sanitized.
KNOXIE'S TABLE & THE MARKET
We have taken the following steps to ensure a safe and enjoyable stay with us!
*50% Capacity
*Single-use menus
*All staff will wear mask and gloves
*Reduced seating with proper social distancing of tables
*Seating and tables disinfected between each reservation
*All tables are set with glassware, flatware and china once guests are seated
*Extensive staff training on our COVID protocols. Employee symptom monitoring before every shift.
THE MARKET HOURS
Breakfast | Monday-Thursday 8am-11am and Friday-Sunday 7am-11am
Lunch | Daily 11am – 4pm
KNOXIE'S TABLE HOURS
Sunday-Thursday | 4:00pm-8:30pm
Friday & Saturday | 4:00pm-9:30pm
*Outdoor dining subject to weather
CONTACTLESS CURBSIDE & DELIVERY

Knoxie's Table & The Market are offering our Eastern Shore inspired cuisine along with beer, wine and spirits for take-out.
SPECIAL DELIVERY HOURS:

Sunday-Thursday | 4:00pm to 7:00pm
Friday & Saturday | 4:00pm to 8:00pm
Take Out & Curbside Hours are based on our opening hours listed above.
DELIVERY DETAILS:
Local Deliveries. Minimum of $20.
WELCOME TO SHOP THE MARKET
The Market is NOW OPEN for shopping with restrictions in place. We are limiting the number of guests that are able to shop at any given time and we do require face masks to be worn at all times. Please be mindful of social distancing while you are shopping.
THE SPA AT THE CHESAPEAKE BAY BEACH CLUB
The Spa at the Chesapeake Bay Beach Club invites you to enjoy peace, tranquility and relaxation. Nourishing your body with mindful ingredients, The Spa offers the finest treatments including restorative massage, rejuvenating facials, luxurious body treatments, and hair and makeup in a beautiful environment.
SALON | Wednesday – Saturday 12:00pm – 5:00pm
SPA | Wednesday – Saturday 11:00am – 6:00pm | Sunday 10:00am – 3:00pm
Appointments can be made by emailing spainfo@baybeachclub.com or calling 443.249.5757.
The Spa has been deep cleaned and disinfected and is ready to safely open! Prior to opening, our staff will be extensively trained on our revamped cleaning and safety procedures to ensure we are providing the safest environment for our guests and associates. Thank you for your patience as we work through this new normal. We remain dedicated to serving our guests and providing you with the very best experience.
Guidance for the day of your appointment: Our stylists and therapists will be wearing masks and require all guests to do the same. Please arrive 5-10 minutes before your scheduled appointment and call 443.249.5757 when you arrive in the parking lot. We will invite you in when your stylist or therapist is available. We kindly ask that you come alone as we are strictly enforcing our guest capacity at this time.