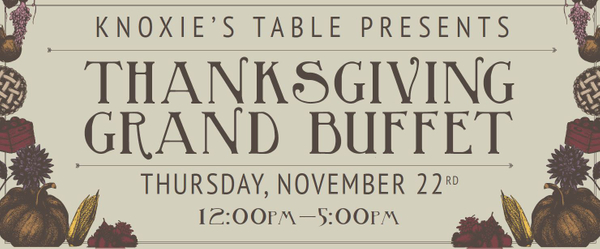 THANKSGIVING GRAND BUFFET
Join us on Thursday, November 22nd for Knoxie's Table Grand Thanksgiving Brunch Buffet. View our Thanksgiving Menu
Hours | 12:00pm - 5:00pm
Adults $48.95 | Children 5-12 $24.95 | 5 and under free
For reservations, contact Bill Redmond at 410.604.5900 or bredmond@baybeachclub.com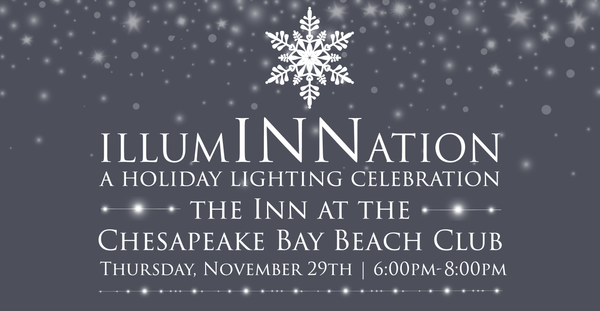 IllumINNation | A Holiday Lighting Celebration
Experience the magic of the holiday season at the 1st Annual IllumINNation, a holiday lighting celebration on Thursday, November 29th from 6:00pm to 8:00pm. Thousands of lights will be lit at The Inn at the Chesapeake Bay Beach Club including more than two dozen trees, a 14-foot walk through ornament with glittery lights and 3D hanging ornaments along with Santa's sleigh that is wrapped in lights.
Happy Hour at Knoxie's Table
Monday through Friday | 4:00pm - 7:00pm
Spiced Cashews & Garlic Sesame Sticks curry, cayenne | 4
Steamed Edamame sea salt | 4
Peel & Eat Shrimp caramelized onions, corn, baby tomatoes, lager | 8
Popcorn seasoned with old bay | 4
Tomato, Bacon & Horseradish pita crisps, garden veggie sticks | 5
Smoked Bluefish Dip served with crackers | 6
Chicken Wings asian style | 6
Wine of the Week | $5 per glass and $20 per bottle
Revolving Craft Beer of the Week | $4 per glass
Cocktail of the Week | $8 per beverage
Local Food for Local Folks
Join us on Monday Nights at Knoxie's Table for a fun two course dinner for $22.95 at Knoxie's Table featuring delectable Eastern Shore food from our nearest and dearest farmers and watermen. Sample menu below.
FIRST COURSE (guest choice of one)
Maryland Cream of Crab Soup
Roasted Beet Salad, arugula, goat cheese, toasted pumpkin seeds, champagne vinaigrette
Farm Salad, field greens, tomato, cucumber, feta, radish, beans, sweet vidalia Vinaigrette
SECOND COURSE (guest choice of one)
Soft Shelled Crab, garlic mashed potatoes, seasonal vegetable
Single Crab Cake, garlic mashed potatoes, seasonal vegetable
Fried Oysters, garlic mashed potatoes, seasonal vegetable
Beef Tips, garlic mashed potatoes, mushrooms, bordelaise sauce
Baked Wild Rockfish, oyster cream sauce, ham, spinach, mushrooms, scallions, garlic mashed potatoes
Thursday's are fine for wine
Join us to unWINEd and explore our perfectly priced, always evolving, Thursday wine selection.