THE MARKET | GOURMET EATERY & GIFT BOUTIQUE
Shopping
Sun - Thu | 7:00am-7:00pm
Friday & Saturday | 7:00am-8:00pm
BREAKFAST SANDWICHES
SAUSAGE, EGG & CHEESE | 6
SCRAPPLE, EGG & CHEESE | 6
all served on an english muffin or biscuit
STEAK, EGG & CHEESE | 9
caramelized onions, pepper jack, everything bagel
BREAKFAST SIGNATURES
BREAKFAST FLATBREAD | 10
prosciutto, pesto, arugula, provolone, fried egg
BREAKFAST BURRITO | 11
scrambled egg, pico, potato hash, cheese, choice of bacon or sausage
BREAKFAST BOWL | 10
fried egg, grits, cheese, toast, choice of bacon, sausage or scrapple
SCRATCH MADE QUICHE | MP
daily selection served with fruit
AVOCADO TOAST | 14
wheat toast, arugula, fried egg, lemon vinaigrette
BAGEL & LOX | 10
red onion, capers, hard boiled egg
LUNCH SIGNATURES
SCRATCH MADE QUICHE | MP

daily selection
BURRITO BOWL | chicken 13 | steak 15 | shrimp 18
choice of chicken, steak or shrimp, romaine, cilantro rice, corn and black beans, pico de gallo, avocado, sour cream, chipotle ranch
BLACKENED TUNA NAAN WRAP | 13
crispy vegetables, wakame salad, wasabi aioli
MEDITERRANEAN QUINOA BOW | 14

chickpeas, cucumber, cherry tomatoes, chopped olives, parsley, tahini dressing
MARKET SOUPS
CREAM OF CRAB | MP
VEGETABLE CRAB | MP
MARKET SALADS
TURKEY COBB SALAD | 14
greens, avocado, tomato, bacon, bleu cheese, hard boiled egg, tomato-basil vinaigrette
MARKET SALAD | 12
mixed greens, cucumbers, carrots, tomatoes, red onion, parmesan, pumpernickel croutons, tomato-basil vinaigrette
CAESAR SALAD | 10
romaine, romano, pumpernickel croutons, caesar
BEET SALAD | 12
mixed greens, beets, pumpkin seeds, goat cheese, tomato, onion, champagne vinaigrette
STRAWBERRY AVOCADO SALAD | 12
spinach, walnuts, parmesan, champagne vinaigrette
SALAD ADDITIONS
grilled chicken 8 | blackened shrimp 9 | blackened salmon 12 | shrimp salad 8 | crab cake MP
MARKET SANDWICHES
#1 TURKEY, BACON & AVOCADO | 12
bacon, avocado, tomato, provolone, garlic mayo, lettuce, country white toast
#2 HOT ITALIAN | 13
ham, salami, capicola, pepperoni, provolone, red onion, black olives, lettuce, tomato, garlic mayo, sub roll
#3 MARKET REUBEN PANINI | 13
hot corned beef, sauerkraut, swiss, kent island dressing, marbled rye
#4 NASHVILLE CHICKEN | 14
nashville hot sauce, crispy chicken, ranch cole slaw, pickles, ciabatta
#5 HAWAIIAN BBQ CHICKEN WRAP | 14
romaine, cilantro, pineapple, red onion, provolone
#6 BRISKET SANDWICH | 13
sautéed onions, jalapeño, cheddar, ciabatta
#7 BLACKENED SALMON BLT | 16
rosemary pepper bacon, lettuce, tomato, garlic mayo, country white toast
#8CRAB CAKE SANDWICH | MP
lettuce, tomato, soft roll
#9 CHICKEN SALAD SANDWICH | 10
lettuce, tomato, soft roll
#10 SHRIMP SALAD SANDWICH | 13
lettuce, tomato, soft roll
#11 CAULIFLOWER STEAK | 13
red pepper aioli, arugula, tomato, rye toast
All sandwiches are served with chips or mixed greens
barista style coffee selection
harney & son's tea selection
specialty beverages & juices
domestic, imported & craft beer
cordials & breakfast cordials
wine & prosecco
*wine, prosecco and cordials must be enjoyed on premise.
Market TO GO + Market TO THE ROOM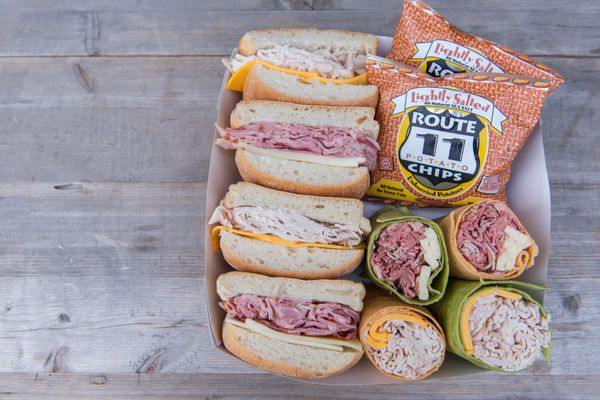 Get Ready for Market TO GO!
Market TO GO offers Gourmet Sandwiches and Family Style Salads for your larger in home or office catering needs.
Let us do the work while you enjoy the fun!
*Are you staying at The Inn for your wedding? Let us bring The Market to your room while you get ready. For our Market TO THE ROOM menu contact us today!