THE MARKET | SERVING BREAKFAST & LUNCH DAILY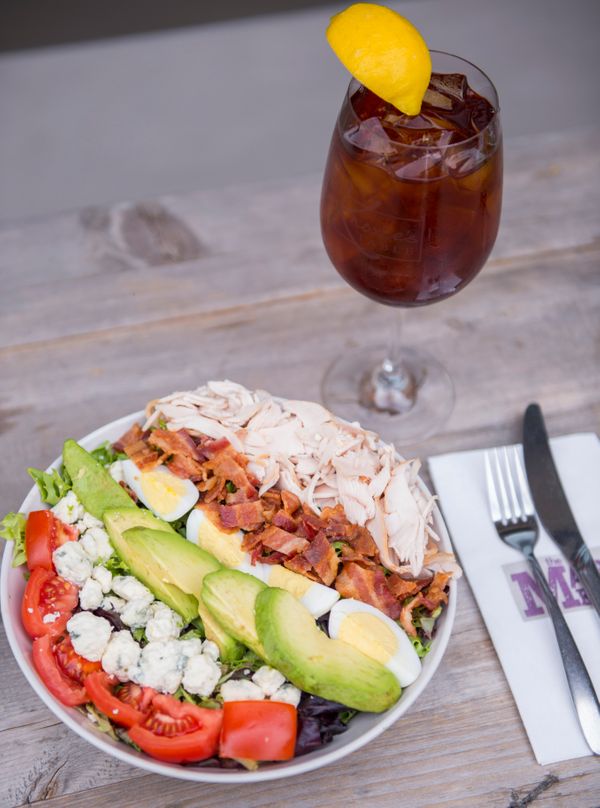 The Market is a charming gourmet eatery and retail shop located in the lobby of The Inn at the Chesapeake Bay Beach Club. Open daily for breakfast and lunch.
Start your day with a gourmet coffee and enjoy farm inspired breakfast dishes to include biscuit sandwiches, scratch made quiche and savory breakfast bowls. For lunch, choose from a seasonal selection of artisan soups, sandwiches and salads featuring our award winning cream of crab soup, roasted beet salad, hearty sandwiches and of course pie! Market fare can be enjoyed in Hassie's Porch, The Inn's gardens or simply taken to be enjoyed at home or on the go.
An expansive grab and go case offers daily features ideal for a quick meal or an inspiring dish to enhance a menu served at home. Scratch pies are made by our bakers and served whole or by the slice. Seasonal and daily flavors are always available to be picked up at The Market or ordered in advance for holiday celebrations.
We invite you to explore our unique gifts perfect for every occasion. Gifts inspired by life's greatest celebrations – simple and grand!
Contact The Market directly 443. 249.5775.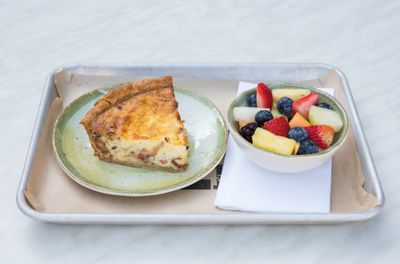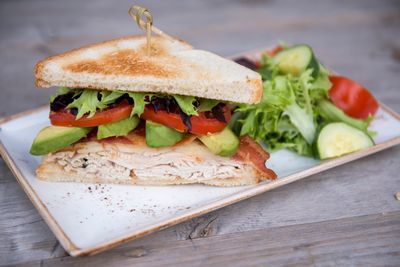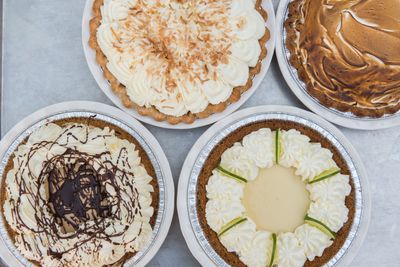 Market Breakfast
Monday-Thursday | 8am-11am
Friday-Sunday | 7am-11am
Market Shopping
Monday-Thursday | 8am-7pm
Friday & Saturday | 7am-8pm
Sunday | 7am-7pm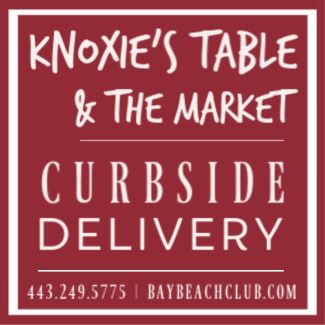 KNOXIE'S TABLE & THE MARKET TO GO
Knoxie's Table & The Market are offering our Eastern Shore inspired cuisine along with beer, wine and spirits for take-out.

*****
ONLINE ORDERING LINKS

*****
CURBSIDE & DELIVERY HOURS:
Sunday-Thursday | 8:00am to 7:00pm
Friday & Saturday | 8:00am to 8:00pm
*****
DELIVERY DETAILS:
Local Deliveries. Minimum of $20.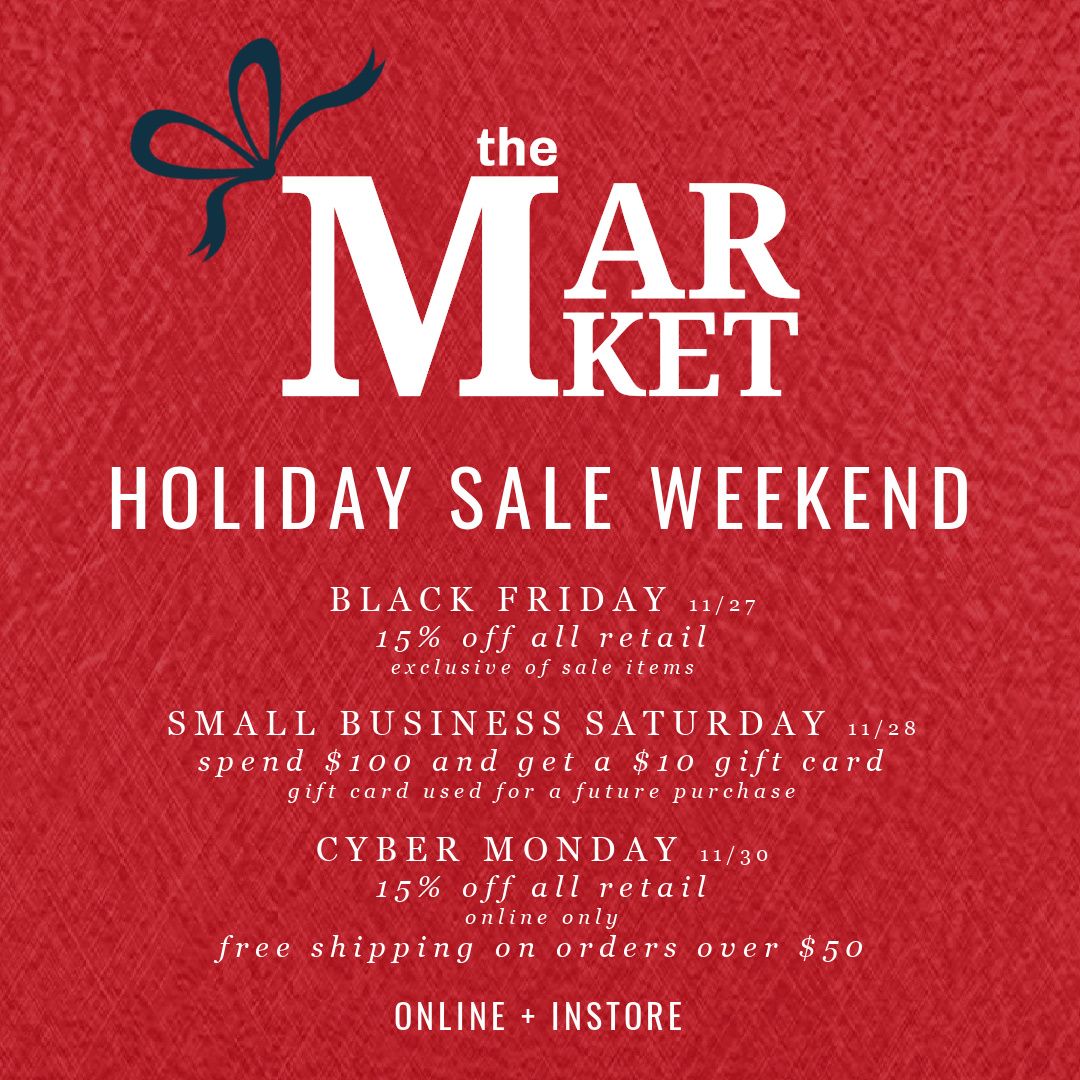 BISCUIT SANDWICHES
egg & cheese | 5
bacon, egg & cheese | 6
sausage, egg & cheese | 6
scrapple, egg & cheese | 6
ham, egg & cheese | 7
with mango chutney
BREAKFAST SIGNATURES
breakfast burrito | 10
scrambled eggs, potato hash, pico de gallo, cheddar cheese, choice of bacon, sausage, or no meat
breakfast bowl | 10
fried egg, grits, cheese, toast, choice of bacon, sausage or scrapple
scratch made quiche | MP
daily selection served with fruit
avocado toast | 13
wheat toast, mixed greens, over easy egg
kids waffle | 8
maple syrup, butter
steel cut oats | 5
cheddar grits | 5
house made biscuit | 3
Market Omelets
Available on Saturday and Sunday's from 9:00am to 12:00pm
western | 14
ham, peppers, onions, cheddar
chesapeake | 16
crab, cheddar, old bay cream
caprese | 12
tomato, mozzarella, basil, balsamic glaze
ham & cheese | 12
ham, cheddar
egg white | 12
mushrooms, spinach, fontina
LUNCH SIGNATURES
SCRATCH MADE QUICHE | MP

LORRAINE | bacon, onion, swiss
VEGETARIAN | spinach, mushroom, provolone
CHICKEN BREAST CHIPOTLE WRAP | 13
BLACKENED SHRIMP CHIPOTLE WRAP | 16
bacon, spinach, grilled pineapple, avocado, chipotle mayo, wrapped in a naan flatbread
MARKET SOUPS
cream of crab | 7 / 10
vegetable crab | 6 / 9
MARKET SALADS
turkey cobb salad | 14
greens, avocado, tomato, bacon, blue cheese, hard boiled egg, tomato-basil vinaigrette
roasted beet salad | 10
mixed greens, arugula, beets, yellow tomatoes, red onion, goat cheese, toasted pumpkin seeds, champagne vinaigrette
caesar salad | 9
romaine, shaved romano, pumpernickel croutons, house made caesar
salad additions
grilled chicken 6 | blackened shrimp 9 | chicken salad 6 | shrimp salad 8 | crab cake 16
MARKET SANDWICHES
TURKEY, BACON & AVOCADO | 12
bacon, avocado, tomato, provolone, garlic mayo, lettuce, country white toast
DOUBLE BACON CHEESEBURGER | 13
lettuce, tomato, garlic mayo
MARKET REUBEN PANINI | 13
hot corned beef, sauerkraut, swiss, kent island dressing, marbled rye
BRISKET SANDWICH | 13
sautéed onions and jalapeno, cheddar cheese, ciabatta
HAM & CHEESE PANINI | 12
peach chutney, arugula, marbled rye
CHICKEN CHESAPEAKE | 19
grilled chicken breast, jumbo lump crab, imperial sauce, lettuce, tomato, mayo, ciabatta
ROSEMARY BLT | 12
rosemary pepper bacon, lettuce, tomato, garlic mayo, country white toast
CRABCAKE SANDWICH | 19
lettuce, tomato, soft roll
CHICKEN SALAD SANDWICH | 10
lettuce, tomato, soft roll
SHRIMP SALAD SANDWICH | 12
lettuce, tomato, soft roll
POWER HOUSE WRAP | 13
avocado, spinach, shredded carrots, sprouts, tomato basil vinaigrette
All sandwiches are served with chips or mixed greens
harney & son's tea selection
specialty beverages & juices
domestic, imported & craft beer
wine & prosecco
*wine and prosecco must be enjoyed on premise.
Market TO GO + Market TO THE ROOM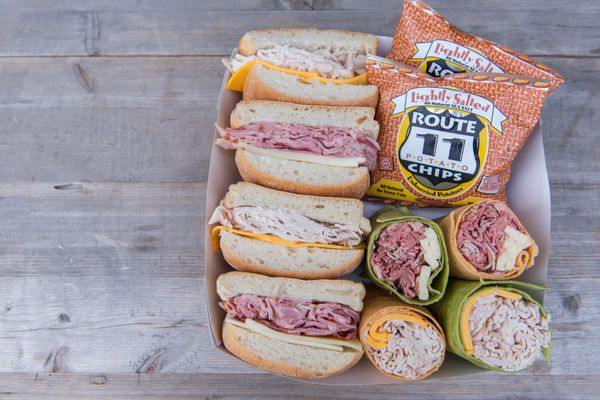 Get Ready for Market TO GO!
Market TO GO offers Gourmet Sandwiches and Family Style Salads for your larger in home or office catering needs.
Let us do the work while you enjoy the fun!
*Are you staying at The Inn for your wedding? Let us bring The Market to your room while you get ready. For our Market TO THE ROOM menu contact us today!