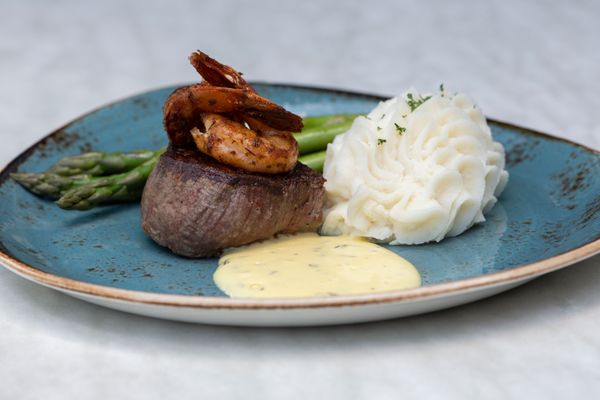 Voted Eastern Shore's Favorite Farm-to-Table Restaurant
Rated the number one restaurant in Stevensville, Knoxie's Table welcomes guests into a warm rustic setting located off the lobby of The Inn at the Chesapeake Bay Beach Club. Knoxie's Table offers an authentic dining experience for locals and guests with a menu featuring fresh local seafood and seasonal dishes composed of the area's finest ingredients. The bar features one of the best whiskey selections in the area along with an extensive selection of wine, beer, and hand-crafted cocktails. Offering both indoor and outdoor dining, Knoxie's Table features 150 seats with booth and table-style seating, indoor and outdoor fireplaces, indoor bar seating, and an outdoor bar and terrace overlooking The Inn's expansive gardens, fire pits, and fountains.
Dining
SUNDAY - THURSDAY
4:00pm-9:00pm
*****
FRIDAY & SATURDAY
4:00pm-10:00pm
TAKE OUT
SUNDAY - THURSDAY
4:00pm-7:00pm
*****
FRIDAY & SATURDAY
4:00pm-10:00pm
RESERVATIONS
KNOXIE'S TABLE
443.249.5777
*****
THE INN
410.604.5900
BAR HOURS
MONDAY - THURSDAY | closes at 10:00pm ~ FRIDAY & SATURDAY | closes at 12:00am ~ SUNDAY | closes at 11:00pm
KNOXIE'S TABLE | DINNER MENU
BOWL OF SOUP
MD CREAM OF CRAB | 13
MD VEGETABLE CRAB gf | 11
CRAB GAZPACHO gf | 11
FROM THE GARDEN
ROASTED BEET SALAD gf | 10
arugula, toasted pumpkin seeds, goat cheese, champagne vinaigrette
BLT WEDGE | 11
tomato, candied bacon, bleu cheese crumbles, bleu cheese dressing
NUTS & BERRIES | 10
mixed greens, candied walnuts, bleu cheese crumbles, seasonal berries, house vinaigrette
SALAD ADDITIONS
crab cake MP | chicken breast gf 8 | seared salmon 12 | grilled shrimp 12
FOOD WITH FRIENDS
CHESAPEAKE CRAB DIP g | 19
spinach, artichokes, country ham, mini naan, crackers
CALAMARI BOWL | 16
fried zucchini, pepperoncini, tomato caponata, balsamic glaze
CHICKEN LOLLIPOPS | 16
smoked and fried chicken, alabama white bbq
GRILLED GARDEN FLATBREAD | 13
mascarpone, grilled zucchini, tomato, mozzarella, balsamic drizzle
GUACAMOLE gf | 12
fresh fried corn tortillas | with crab 18
FRIED GREEN TOMATOES | 13
tomato stack, blackened shrimp, creamed corn
JW BUTCHER BOARD g | 23
local cheeses, hard meats, peach chutney, grain mustard, olives, nuts, crackers
PEI MUSSELS | 15
madeira cream, ciabatta toast
SEARED SCALLOPS gf | 17
yellow grits, corn salad, cajun cream, microgreens
SESAME CRUSTED TUNA | 16
seared rare, sriracha aioli, sweet onion glaze, wakame, crispy vegetables
PORK TRIO gf | 18
crispy pork belly, smoked pork loin, smoked sausage, house-made spicy southern mustard, pickled peppers, okra
MAIN PLATES
JUMBO LUMP CRAB CAKES | MP
mustard sauce, garlic mashed potatoes, seasonal vegetable
PORK CHOP gf | 30
twin chops, rosemary garlic jus, garlic mashed potatoes, seasonal vegetable
PETITE FILET MIGNON gf | 39
blackened shrimp, béarnaise, garlic mashed potatoes, seasonal vegetable
CHILEAN SEA BASS gf | 35
pan seared, coconut turmeric rice, baby bok choy, thai green curry sauce
NEW YORK STRIP gf | 45
14 oz. strip steak, garlic mashed potatoes, seasonal vegetable, red wine truffle butter
GRILLED SALMON g | 29
tomato orzo feta salad, cucumber nest, dill beurre blanc
PARMESAN CRUSTED CHICKEN | 26
angel hair pasta, crispy kale, fried capers, tomato sauce, citrus beurre blanc
SHRIMP & GRITS | 27
yellow corn grits, spicy seared shrimp, andouille sausage, shrimp stock gravy
KNOXIE'S BURGER | 19
10 oz. house blend, choice of cheese, lettuce, tomato, house pickles, garlic aioli, parmesan fries
VEGETABLE RAMEN BOWL gf v | 23
miso broth, rice noodles, baby bok choy, crispy vegetables, soft boiled egg, fried tofu
SIDES TO SHARE | 9 each
SUMMER TOMATO & ONION SALAD
ASPARAGUS WITH ONION VINAIGRETTE
PARMESAN FRIES
*GF = Gluten Free Menu Item *g = Gluten Free Optional
We are committed to providing the very best service and experience for our guests during their stay. For the safety and comfort of everyone, we only accept dogs recognized as service animals in guest rooms and public spaces. Unfortunately, we do not allow any animals whose sole function is to provide comfort or emotional support as these pets do not qualify as service animals under the ADA.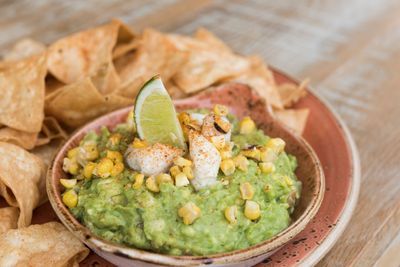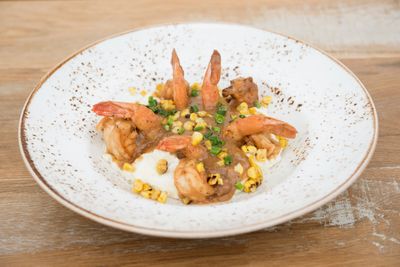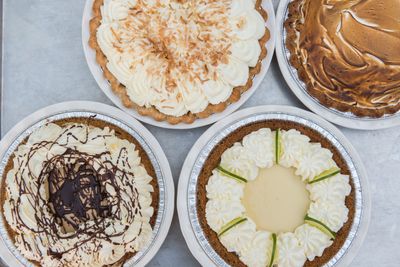 Private Dining at Knoxie's Table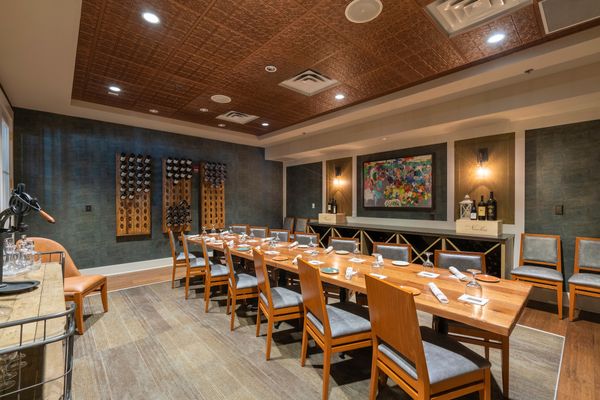 Decanter Room
Whether the occasion is a family weekend brunch, a small week night gathering or an intimate client appreciation dinner, Knoxie's Table is ideal for such an event. The Decanter Room located inside Knoxie's Table offers an intimate private dining space with seating up to 24 guests. This exquisite private dining room features a large wooden table and an extensive wine display in an intimate setting just off our main dining room.
To book your next intimate event, contact Knoxie's Table at 410.604.5900 or email Bill Redmond at bredmond@baybeachclub.com.
For events that are larger than 24 guests, we invite you to complete our Special Event Request Form and one of our Sales Manager will respond within 24 hours.